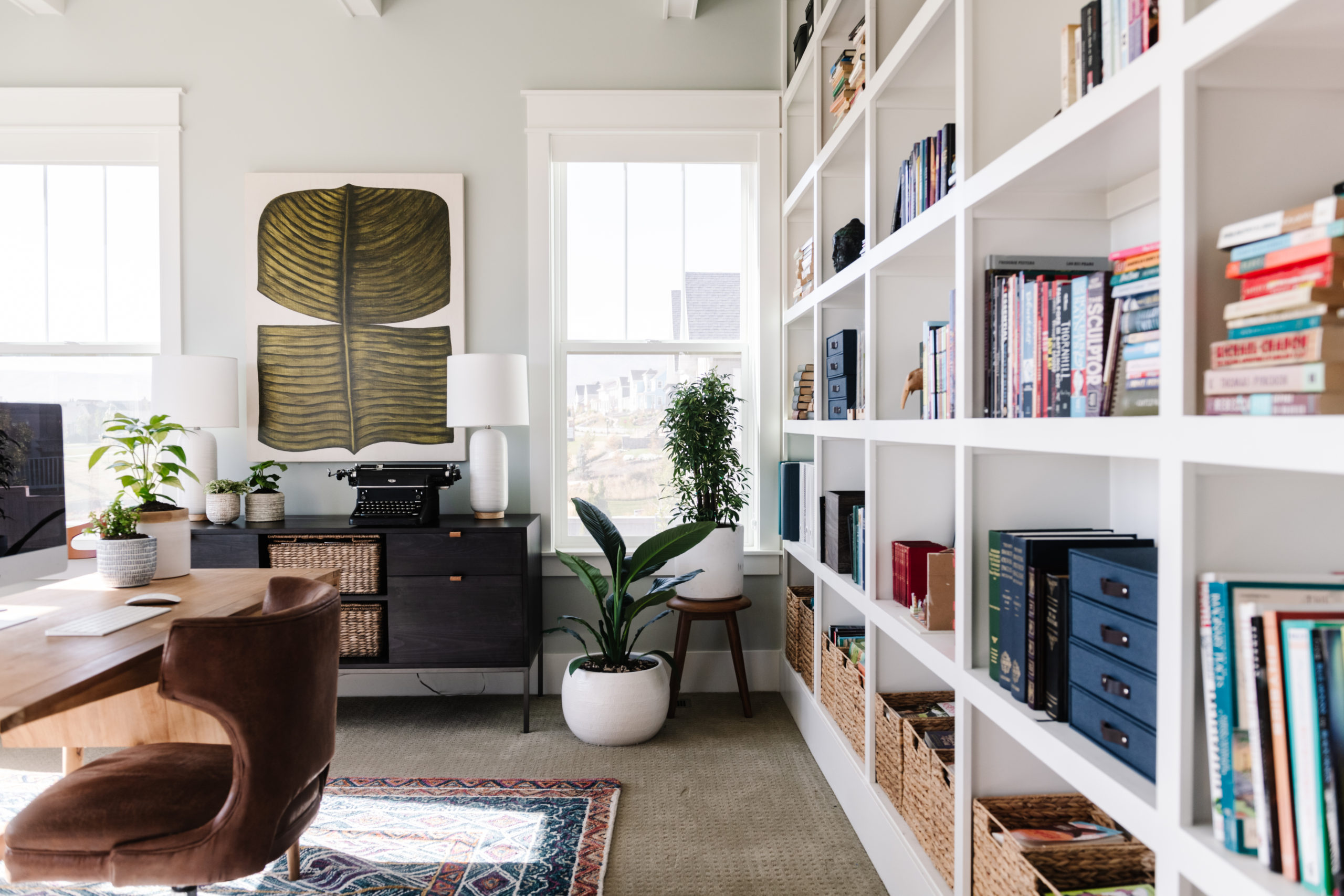 We had such a blast crafting this beautiful office space. Our client for this project is a popular author with a very colorful and eclectic style, so our goal was to create a room that captured her vibrant personality with a balance between function and beauty. Because the office is located right off the entrance of the house, it sits in a very high traffic area so it was important to design a space that reflects her vibe to make it that perfect space for her to continually create.
As you would expect, there was no shortage of books in this author's office. This presented a fun challenge we were eager to tackle. Keeping in mind our "beauty meets function" mindset, we needed to figure out how to practically and creatively display the books without it feeling overwhelming.  Working together with our organizational design teams, we created the full wall bookshelf that creates a clean and organized feel. We used a few different stacking techniques to maximize space and add variety to each shelf. The baskets along the bottom and top rows create extra storage plus hide things that might not be super pleasing to the eye.  
Part of our vision for this project was to create an environment that would foster creativity. We wanted it to be a room where she loved to be, so greenery was a no-brainer: plants represent life and radiate a sense of calm and warmth. When writers block hits hard, the client prefers to write her books sitting in a comfortable chair.  Naturally, this stunning turquoise chair and customized ottoman was a must! It fits so perfectly in the corner and adds just a little pop of color to the space. We also added this beautiful white lamp next to the chair for those late nights writing. 
What's an office without a statement desk, right? This stunning asymmetrical wooden desk and chair duo added much-needed warmth to the room. Multiple seating areas in this office allows herself, colleagues, and kids to be in the space as well. The credenza provided a little more storage space and helped give the office a modern, electric touch, which we felt really set the tone of the room. Don't you just love the vintage typewriter? Such a fun piece for an author's office!
We originally wanted a vintage rug, but finding one in the right size was hard to come by. When we found this rug which fit the room, we fell in love with the colors. It helps to tie it all together and compliments our clients fun, colorful personality.
We had so much fun designing this beautiful, functional, and creative space for our client. We hope it serves as a blissful place to spend her time as she writes stories and provides you inspiration for your office goals.