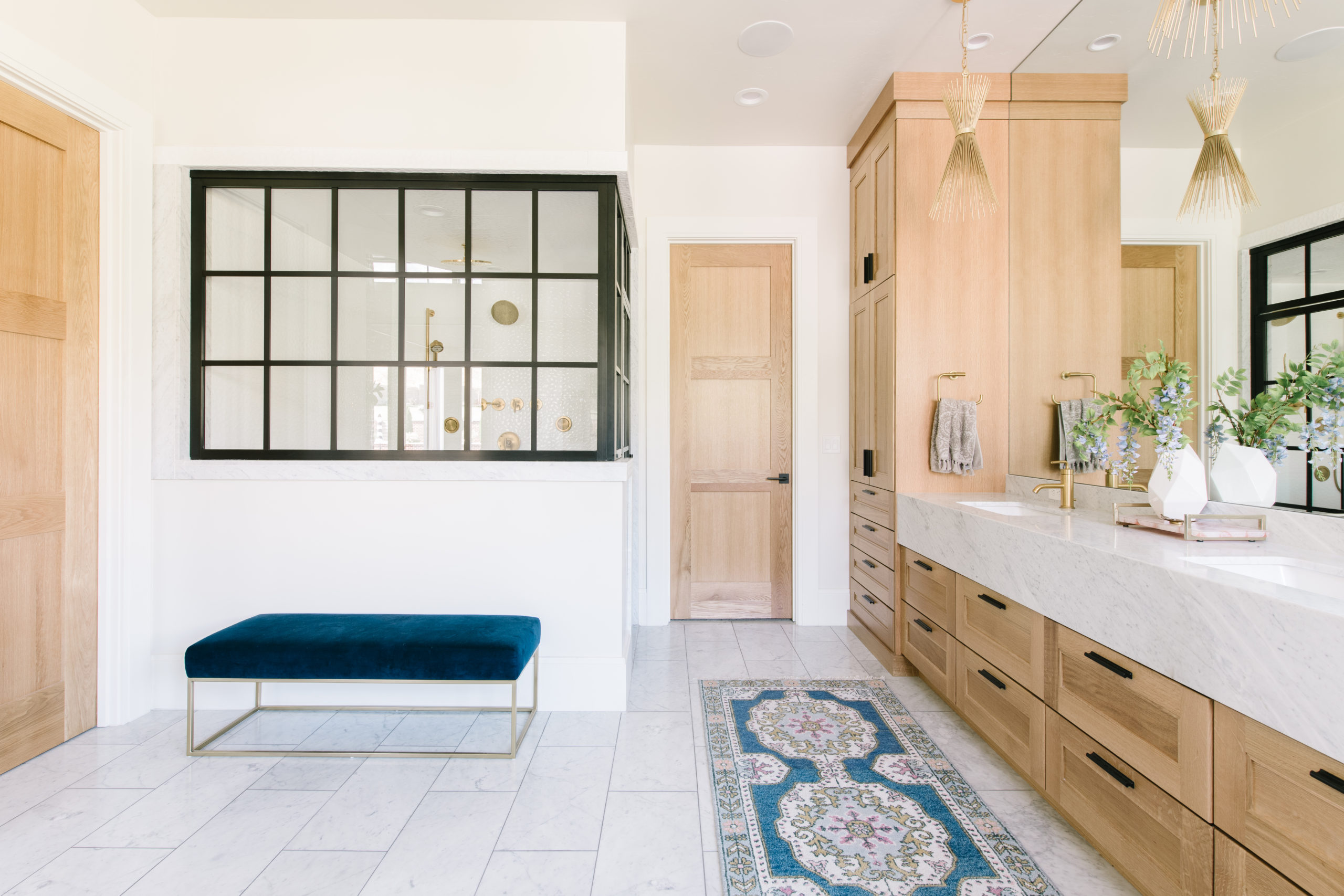 This affectionately named "uptown boho" project is one of our favorites master bathrooms to date, and we are super pleased with how it turned out. Livs' design team created a bohemian-inspired master bathroom with an uptown funk that would leave Bruno Mars speechless. Just look at those stunningly beautiful, long lines in this first image. The eye can't help but notice how clean, modern, and spacious this room looks.
The client for this project was in love with the modern look and wanted to really make it their own with color and texture. To achieve this, we went with warm oak cabinets which give warmth to that modern boho vibe they wanted. The client also asked for a separate vanity for getting ready every day; so we ditched the idea of a his-and-her side vanity and went with an extra-long double sink and a separate makeup area next to the tub. The one-of-a-kind black bathtub was strategically placed diagonally alongside the beautiful corner windows for maximum light and beauty. Luckily, the room's layout was conducive to this long, double sink, which is finished with this stunning white marble countertop. We love much space this creates while still maintaining a clean, modern look. Carrying the marble texture onto the floor really helps to give it a very sophisticated and elevated look.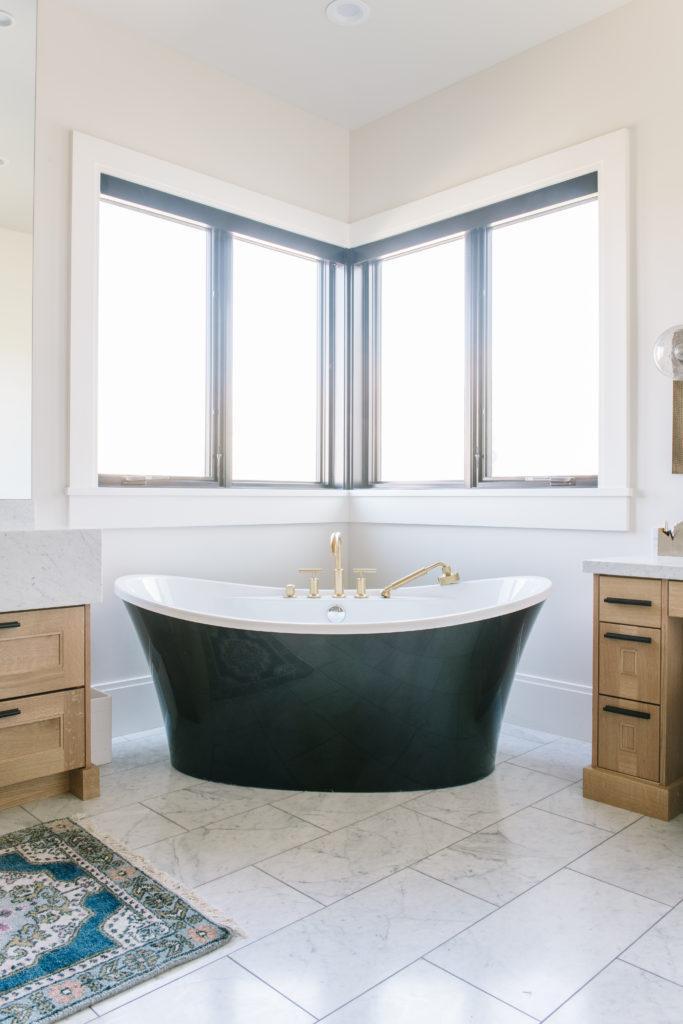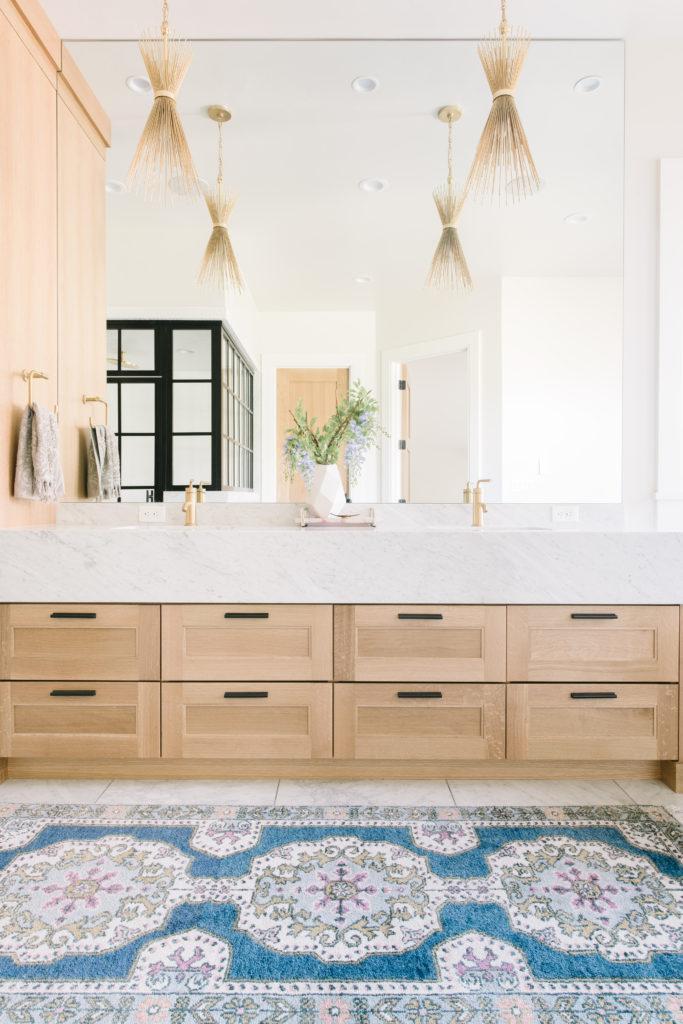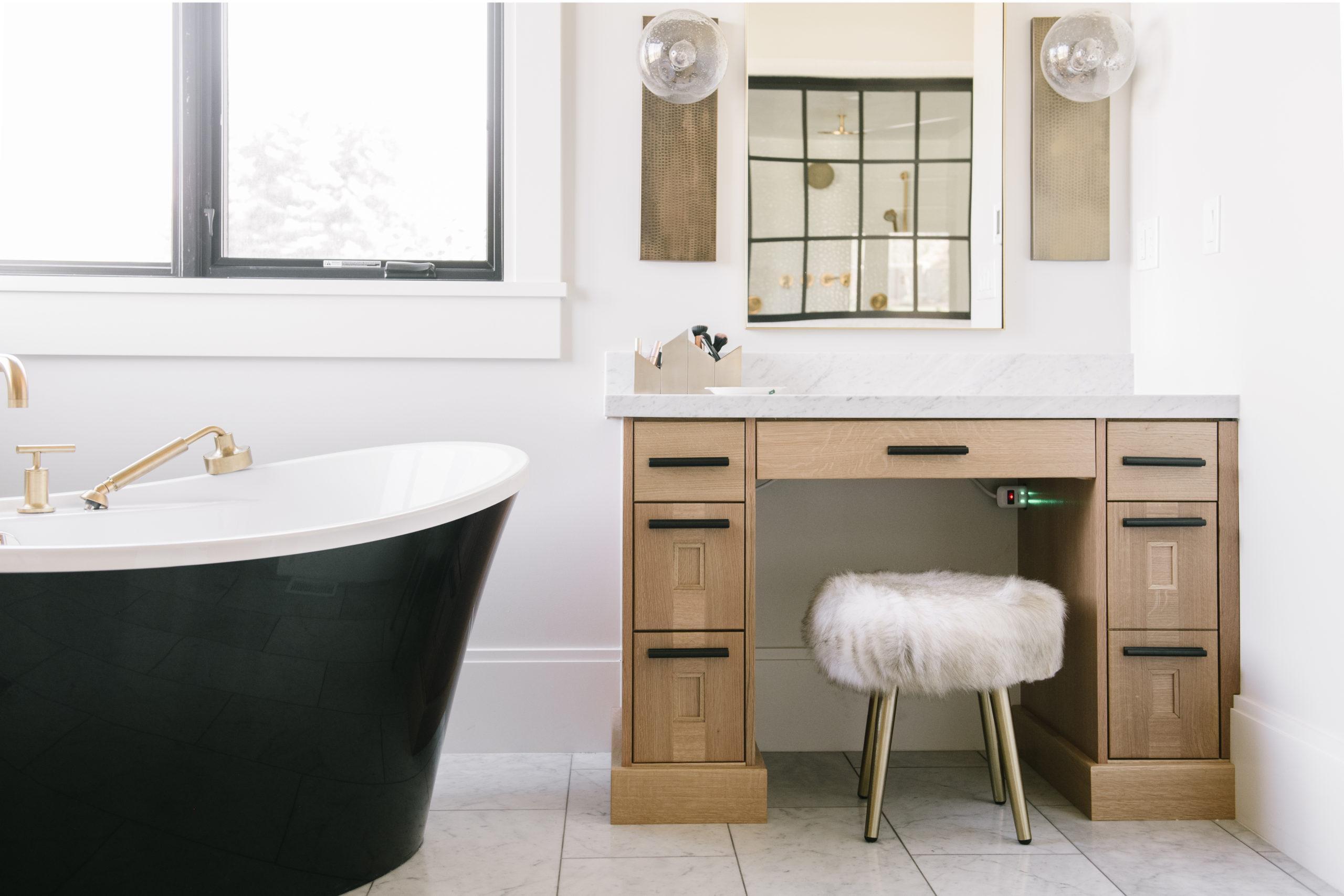 One of our favorite features with this design is the black windowpane surrounding this extra-spacious shower. It sets the tone for that modern bohemian look we were going for. We carried the black finish to this beautiful black tub and sleek modern hardware on the cabinets. You'll notice we choose gold plumbing for the sink faucets, tub filler, shower heads, and towel hooks. If you're new here, our design team loves to mix metals, and black and gold give a nice modern look.
With any master bedroom, storage is critical to helping to maintain a clean finish. These floor-to-ceiling cabinets are the perfect way to store all those extra linens, towels, and additional functionality items for a bathroom. And it's no coincidence that it is located close to the shower for easy access and next to the washer and dryer closet. That is the strategic genius of our practical and innovative design team.
The finishing details include these amazing eclectic pendant lights and this bench that puts the 'fun' in function bench. To drive that modern boho theme home, we used this bright runner, adding a touch of character and texture to the space. Don't be surprised if you find yourself echoing the words of a famous poet the rest of the day. Sing it with us now, "Uptown Funk you up, Uptown Funk you up."