We love a good pantry moment! And we are a little less in love with a bad one. Thankfully for us (and all of you), the Liv Design Collective Team offers organization services that include arranging spaces as small as your pantry! Which is great, if you don't know where to begin, but what about maintaining it? 
5 tips
on creating and maintaining your dream pantry: 
Sort out your containers + labels. The best start to organizing anything is to find storage containers and labels you love. Typically clear ones work best for pantries so you can see your food. 
Get rid of any excess. Simplifying your pantry and only keeping the things you need will bring an immediate sense of gratification, seeing how much more space it opens up. 
Make it functional. Keep your every day items easily accessible, and store the items you don't use quite as much on a back shelf. 
Keep it tidy. Putting things back where they belong every time you use them is a great way to maintain your organization goals. If you organize as you go, your pantry will stay tidy for longer! 
Gut it. Clean out your pantry every six months. This overhaul will keep it looking beautiful and organized!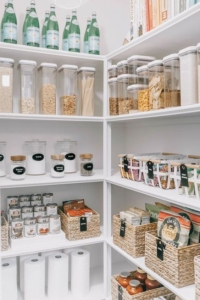 Dreams really do come true
Thanks to some great storage solutions and loads of containers, it's so easy to keep this pantry organized and functioning! Which is to say, your home doesn't have to be untouchable in order to stay organized.
The Liv Design team is great at keeping your life completely livable, but elevated. Contact the design team today to get underway on your pantry! Email us at liv@livdesigncollective.com