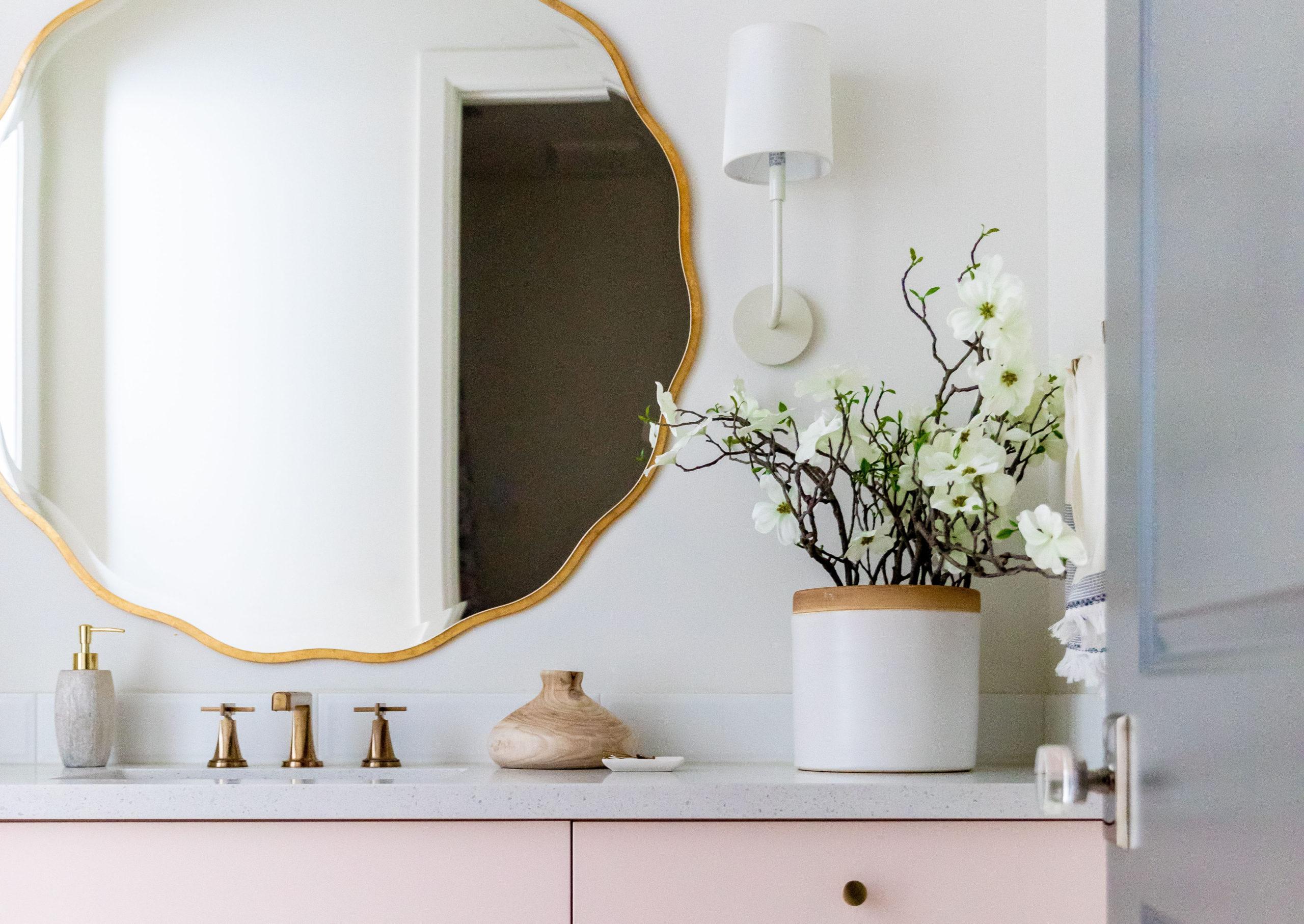 To say it was an absolute thrill to design this home is the understatement of the century! We will be highlighting more of this incredible design soon, so stay tuned — you will want to see it in all its glory. Small peek: there is a slide going down to the basement. But for now, let's dive into the laundry rooms (yes, plural) and beautiful baths.   
To begin with, this home has 11 bathrooms, which the Liv team designed and drew. This home is packed full of personality just like it's owners.
In working with our client, one main factor in the design was that the people in this home are super busy. It was important for the Liv team to create a function space while pulling in that vibrant vibe that already existed. To capture the kids' fun characters, we used exciting patterns with soft colors in their bathroom. We also wanted to keep the design's balance in the rest of the home, so we paired those lively elements with some sophisticated elements.  
We went with a playful pink in the girl's bathroom, but on the color spectrum's soft side. (SW7113 if you'd like to check it out). Since the colors were soft, we included some more vibrant accessories, which were a big hit with the young client. And aren't those scalloped mirrors to die for?! We love how it brings in that sophistication from the rest of the house while still having a bubbly, girly touch.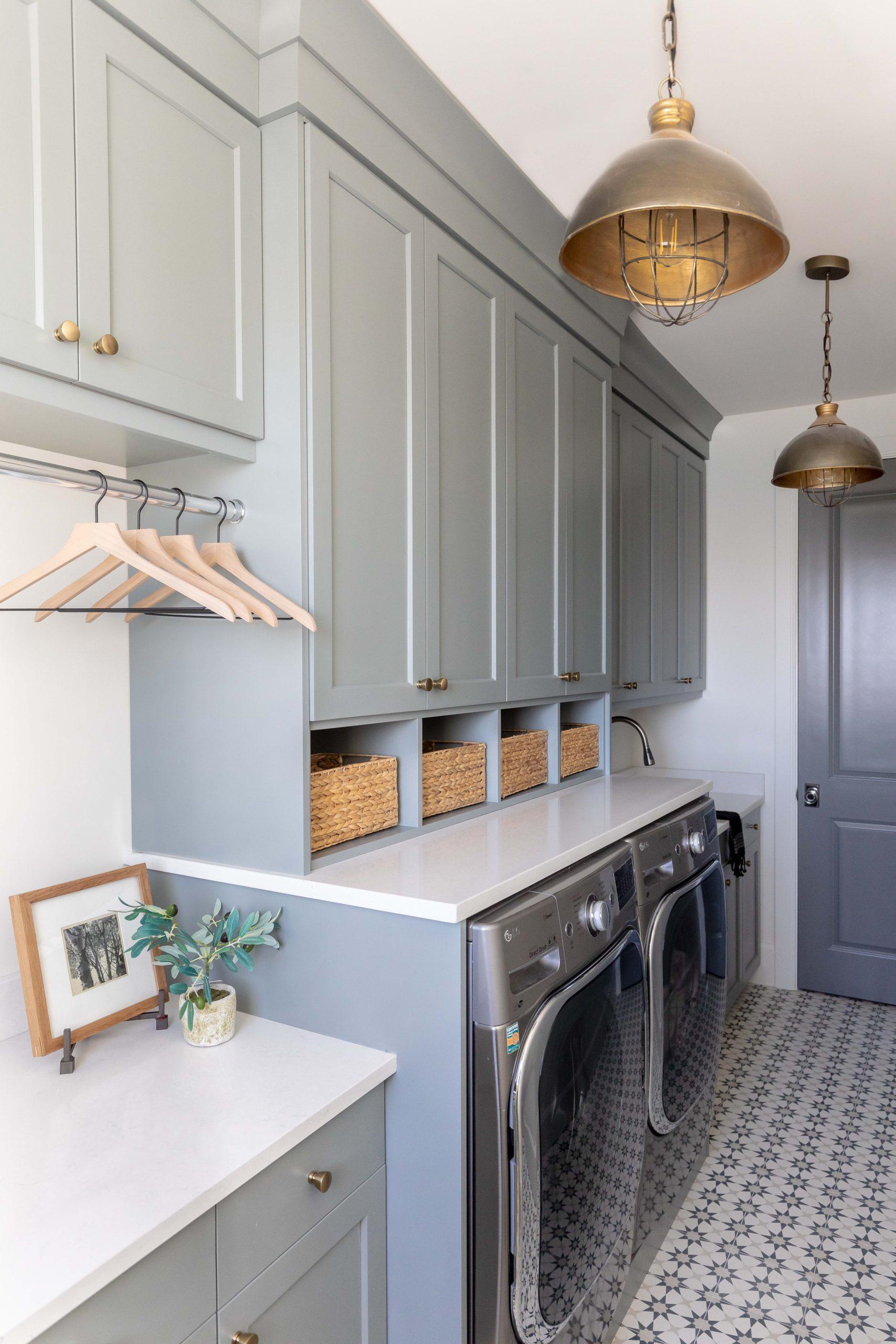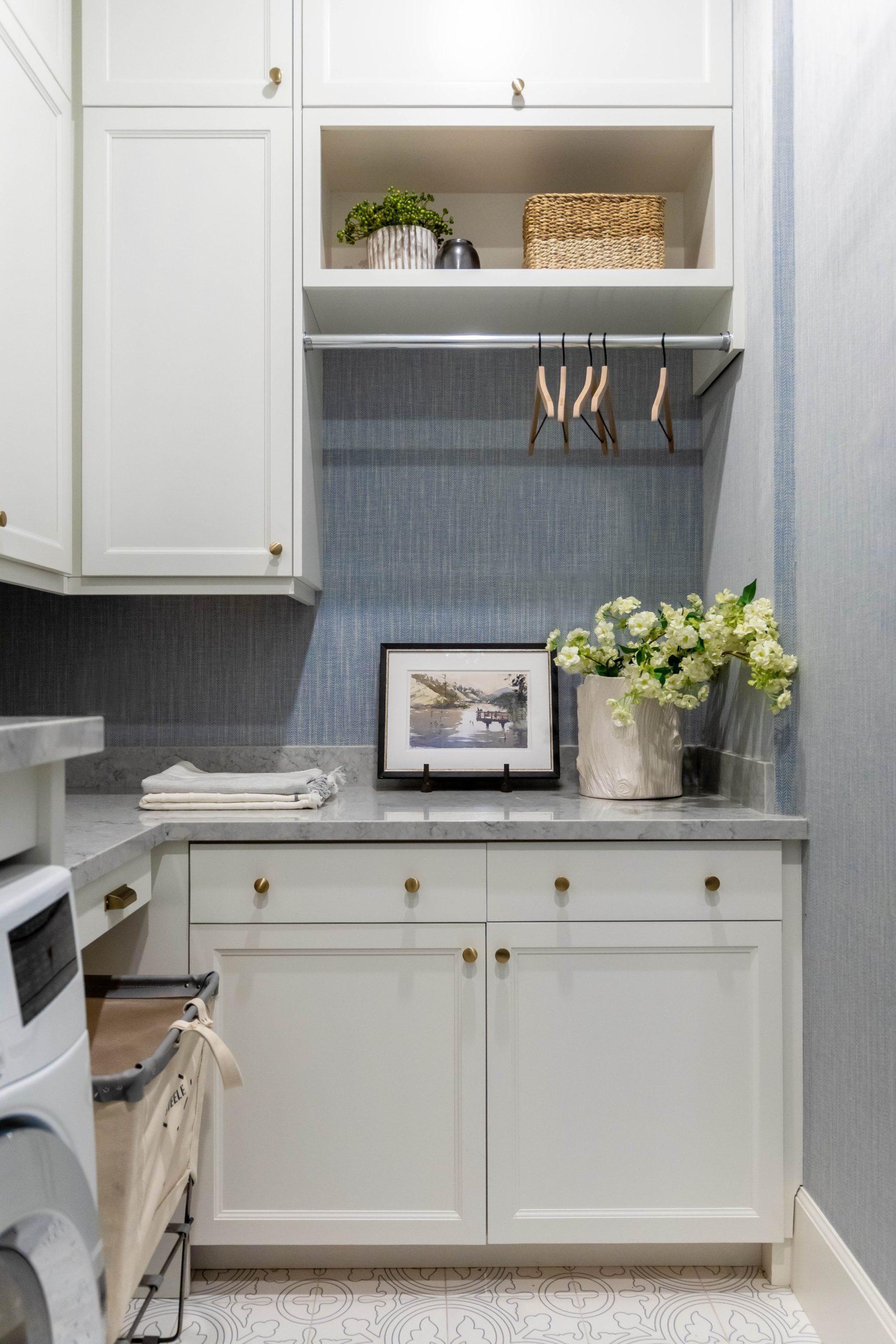 When designing the powder bath, we knew we were dealing with a high-traffic area on the main floor – so you better believe we made a big statement with it. Starting with this definitely statement-making wallpaper! The blue floral was the perfect touch to add that "wow" factor to the space. Now, the Liv team knows that wallpaper doesn't belong in every room, but it most definitely belongs in a powder bath. We mounted the faucet to the wall and installed a vessel sink to invite more of that sophistication and uniqueness. Since there is not much space in the bath, we added a cute basket for extra storage.
As any busy family knows, laundry is the bane of our existence. But what if you had THREE laundry rooms plus an extra in the master bedroom?! Having that extra space in those rooms makes all the difference in making the menial task of washing clothing much more manageable.
Laundry rooms are the perfect place to let a little loose and play around with patterned tile or wall textures. In the first room, we picked a fun sunburst tile that we paired with Puritan Grey HC-164 cabinets. We designed this one with lots of storage and organization since it will primarily be used for the children. And we all know how much laundry kids can generate in what seems like minutes. For the second laundry on the main floor, we used a neutral mosaic tile and a soft blue woven wallpaper (available through livlifetyle) to give this smaller laundry a personality.
What a dream it was to design this house for such a lovely client. It was fun, challenging, and equally rewarding.