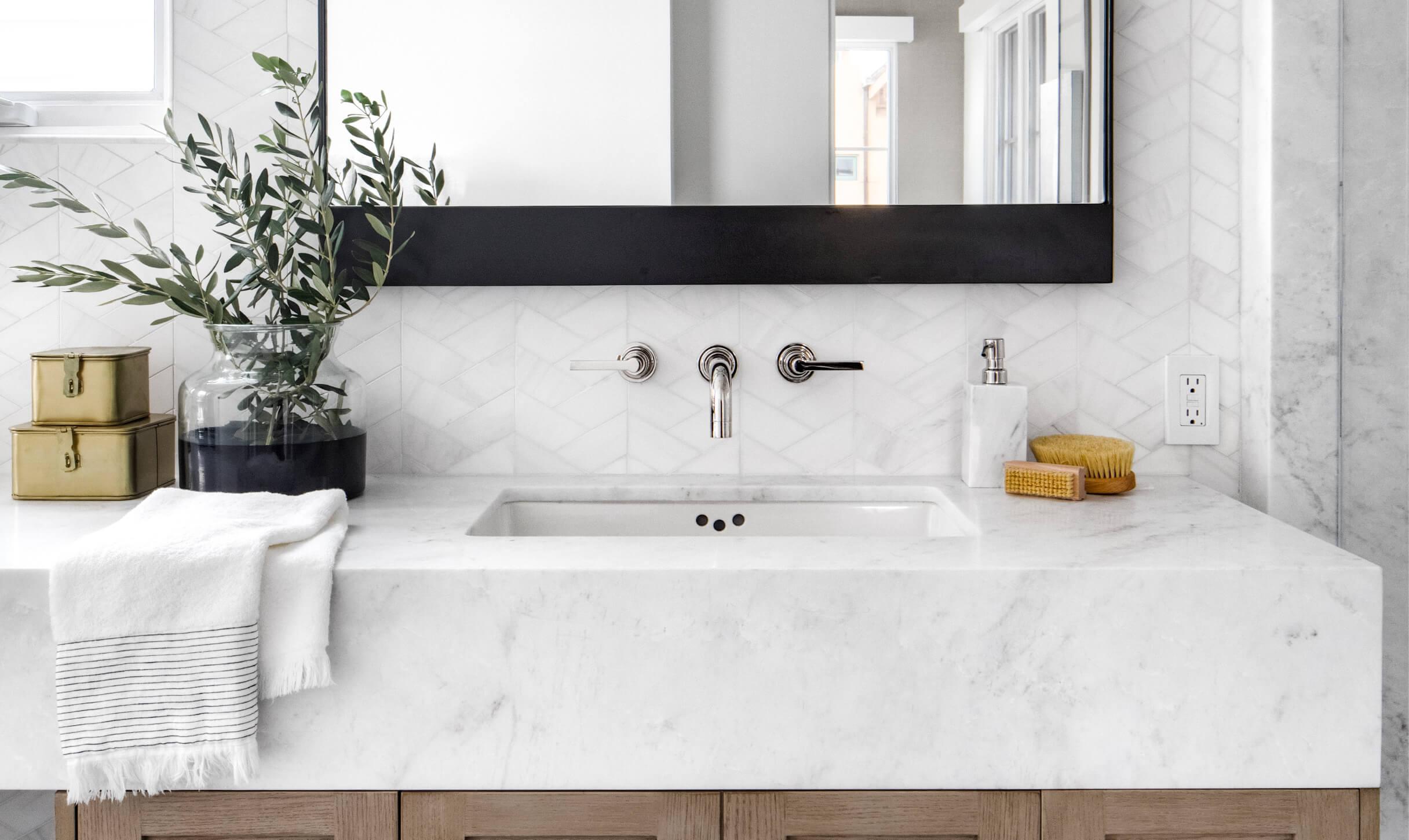 Getting Creative in the Powder Bath
Let's talk powder baths! Did you know that early in the 18th century, a powder room was used as a place to apply a little extra powder to your wig? Nowadays, you don't see too many people powdering their wigs (although stranger things have happened), but today it still serves the purpose of freshening up. Perhaps today more people use it as a guest bath or washing your hands and face. Even though the term has been around a while, there is currently a rising trend for fun and bold powder baths, and we are here for it. If you haven't already, spend a few minutes on the interwebs searching images of people's powder rooms. Some people are so inspiring with their choices. We love the design freedom that comes from being so bold and creative, and the powder bath is the perfect place to experiment a little. We have designed many powder baths over the years and thought it was about time we shared some wisdom we have garnered to successfully create that statement powder bath you've been dreaming of.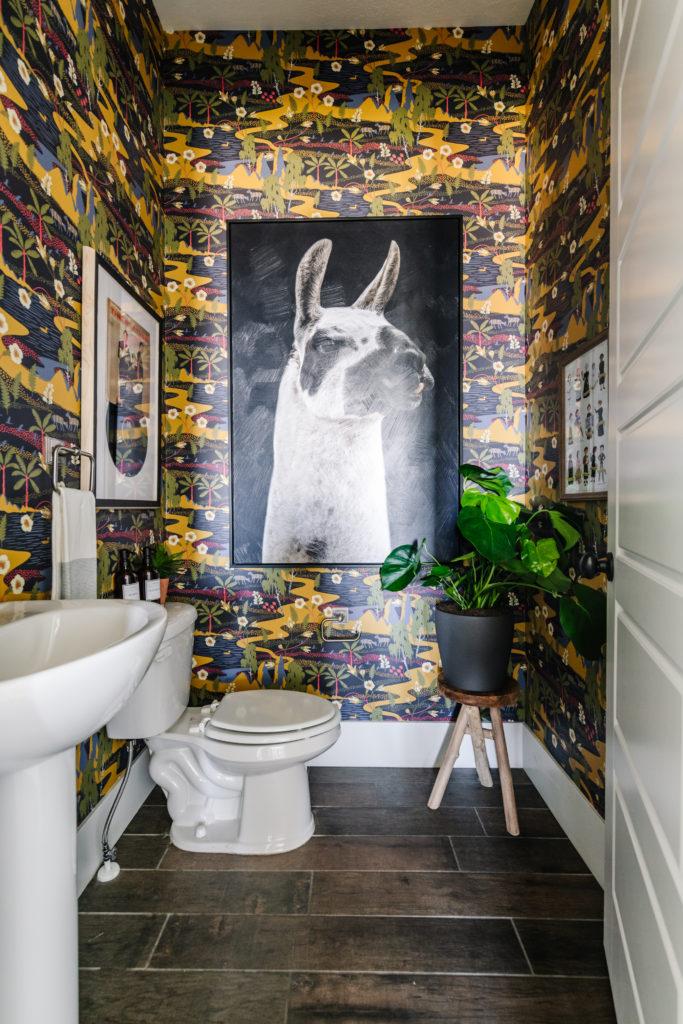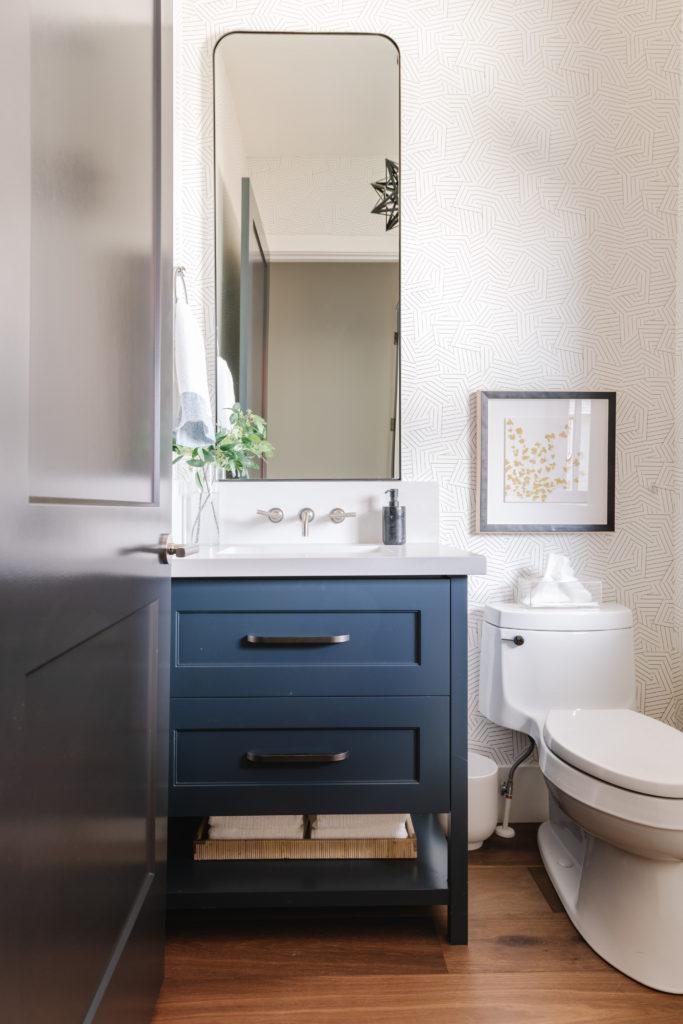 If you struggle with putting up wallpaper in your house because it feels so permeant but are obsessing with that one Pinterest wallpaper you found, put it in the powder bathroom! Putting wallpaper in the powder bathroom creates a little bit of a shock factor to the guests but doesn't take over the whole house. Plus, if you don't end up really loving it after a few years, it is an easy fix. If wallpaper isn't your thing, start with a fun tile that feels more of your style. Tile can catch the eye and have a similar "wow factor" as wallpaper. You can even use a color tile with a unique pattern.
On to vanities! Because it is just a powder bath, there doesn't need to be excessive amounts of storage space, just a simple spot to put hand towels and extra toiletries. As you can see in our powder bath design, we love a good cabinet with open shelving. Throw in a basket that has extra towels, and you're all set. This is also an excellent place to put a pedestal sink or a floating sink to give it a little flair and differentiation to the rest of the bathrooms in your house. Speaking of sinks, we love a good vessel sink and are super into the trendy, modern concrete look going on right now. Or you can keep it classy with a statement marble sink; you can't go wrong with that.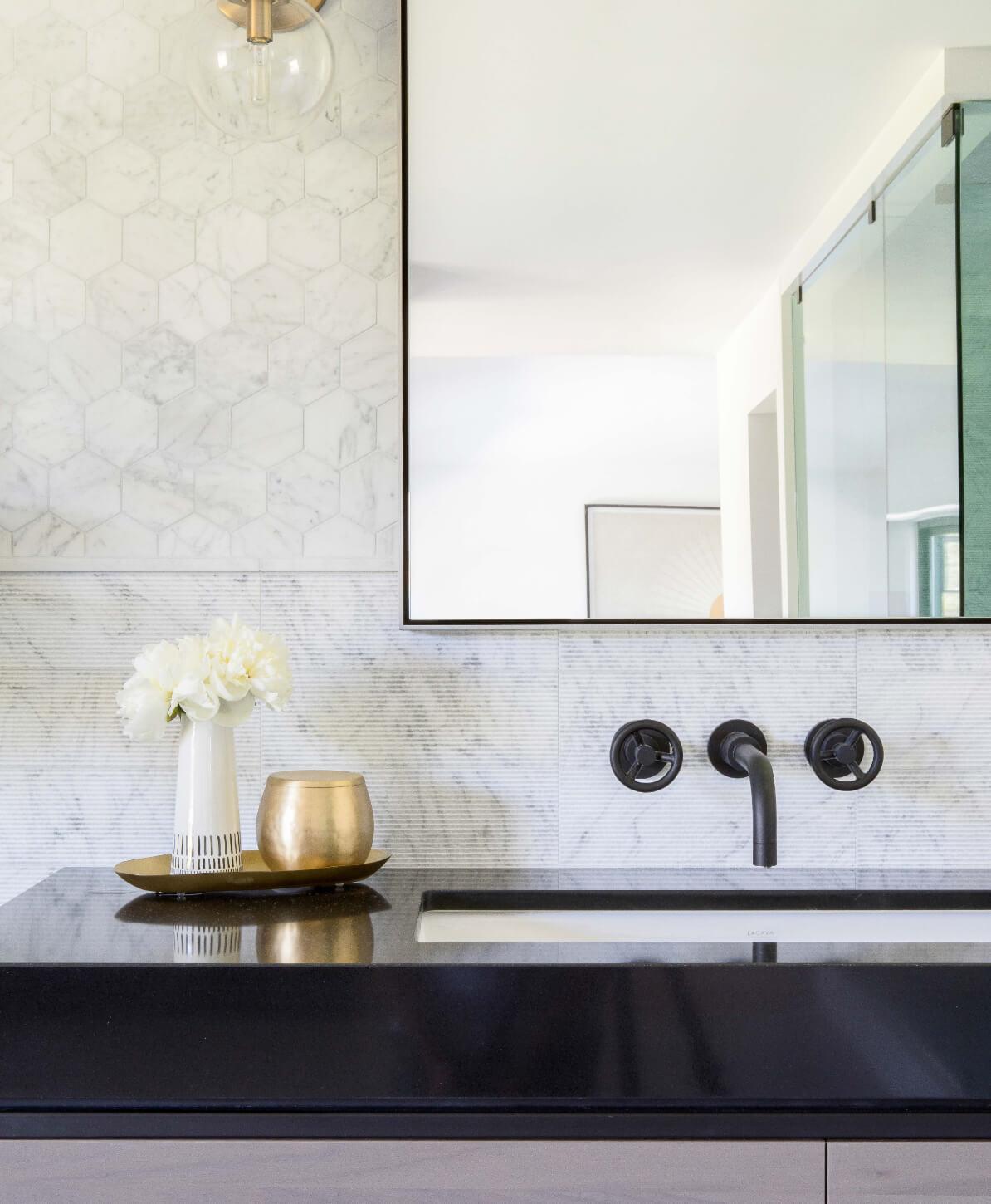 The next thing to think about is plumbing, hardware, faucets, and lighting. If you don't love the idea of getting wild with tile, wallpaper, or vanities, these finishing touches mentioned above can add a flair on their own. Pick a unique faucet that fits your style, and go ahead with adding that one funky light that you've been eyeing for a while. Have fun and be creative; don't be afraid to get out of your comfort zone a little.
The last thing we recommend for a powder is to lace it with good greenery and soap pumps. This is most likely the highest traffic area in the house, especially if you like to be a host. Give it that designer touch — add a soap pump and a fresh floral bouquet to tie everything together. If you're really feeling bold, throw a little powder in there and see if anyone uses it to powder that wig of theirs, you never know.