Achieving Indoor/Outdoor Fluidity
Indoor and outdoor fluidity is a huge trend as of late. There's just something so inspiring about crafting a controlled experience with nature from the comfort of your own home. Our design team loves to create spaces that bring the refreshing outdoors inside and take the comfortable indoors out. It can be a daunting task when starting out, but we are here to help you navigate designing your indoor-outdoor space just the way you imagine it. Being in Utah, we have helped many clients capture this diverse state's natural beauty to be enjoyed from the walls of their own homes. Whether that's views of the Wasatch Range, the Great Salt Lake, or the iconic sandstone arches, helping to blend the great outdoors with the security of your home is what we do best. Achieving indoor and outdoor fluidity doesn't have to be expensive. Let's take a look.
For starters, utilize extra-large windows and glass doors. They allow that desirable natural light to come pouring in and help to blend the two areas. Doors and windows — especially when they are clean – enable it to feel like the outside is right there with you, all while enjoying the comfort of your home. They also help to open up the area and make it feel bigger than it is. Light, nature, and openness are a few of our favorite things. In one of our projects, we used floating corner bifold doors that allow the entire space to open up to the outdoors, making the transition between indoor and outdoor so seamless it's almost non-existent.
As you will see in this project, we used an outdoor dining space to make this space feel elevated and more comfortable. We added this beautiful outdoor stone fireplace to bring that indoor feeling outside. Flooring can also be a vital addition, so be sure you don't neglect that. Make sure you use something that can stand up to nature's extreme elements but looks intentional, such as stone pavement or a wood-like patio.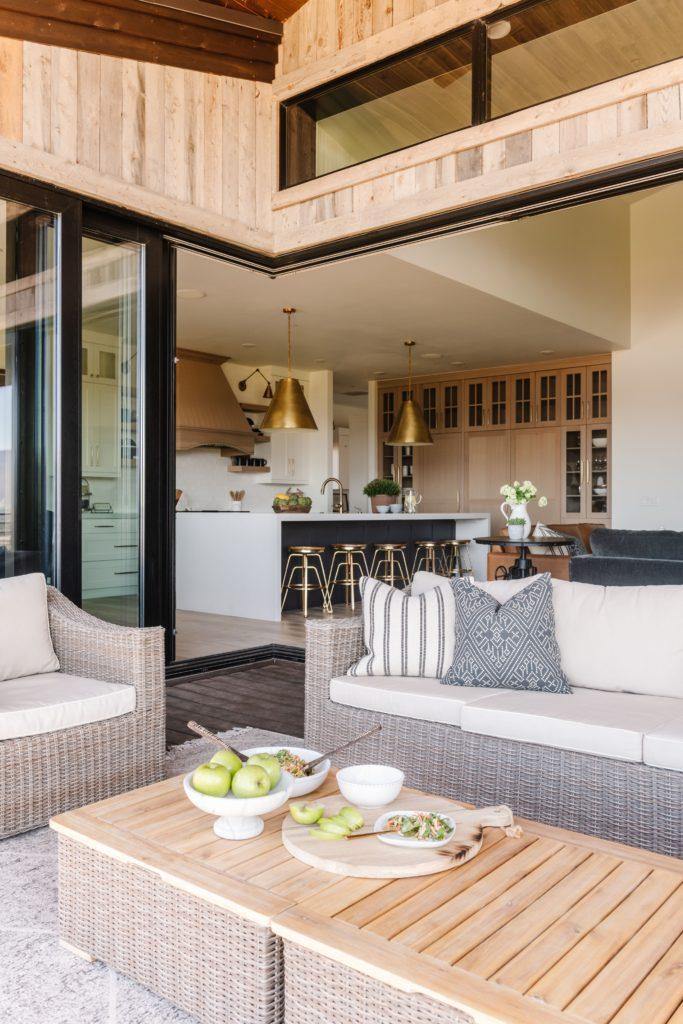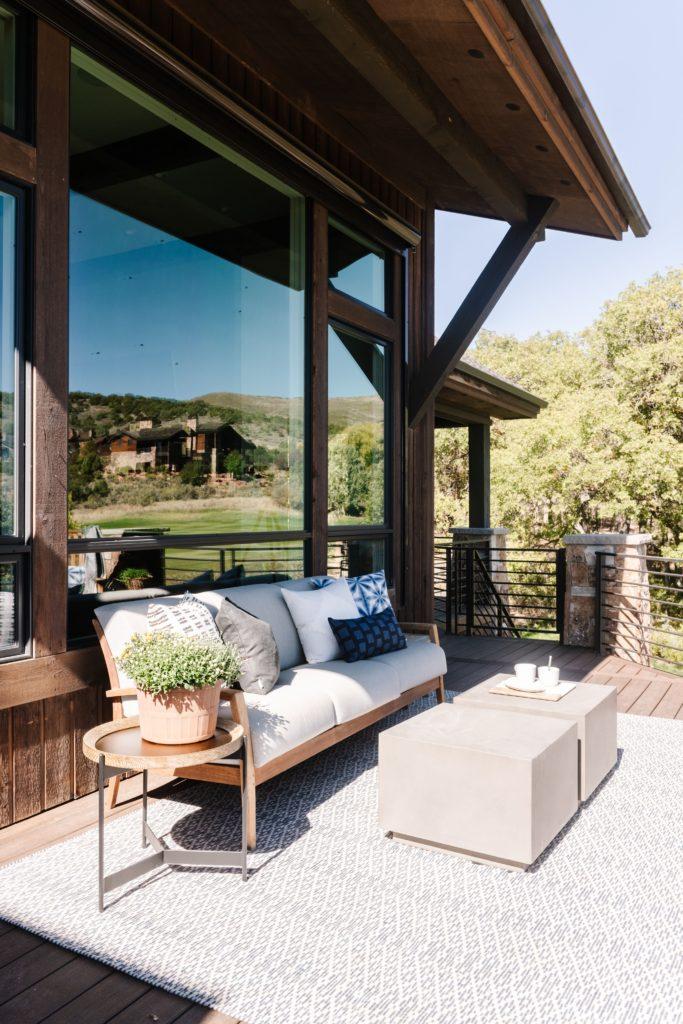 To bring the indoors out, start with a great indoor/outdoor rug! It adds that warmth and cozy feeling that we all love to an outdoor area; it also makes space feel more livable. Make sure to do your research on your outdoor environment to find the best furniture pieces that will be most functional and comfortable for your space. Finish it off with some throw pillows and a touch of greenery.
Now to bring the outdoors in. One of our favorite ways to do this is in the most obvious, and that's greenery. It's the best way to get that feeling of peace and tranquility that nature brings. Add a sprinkle of greenery here and there to make your indoor-outdoor space feel cohesive and intentional. Windows and glass doors that allow natural light and outdoor views are the second-best way to feel connected to the outdoors.
What is a better way to feel connected to nature than actually seeing what it is all about!
We can't wait to see how you create your own indoor/outdoor space!