The Great Outdoors in Your Own Backyard
There's nothing like planting yourself in your favorite chair with no intention of leaving anytime soon and a bag of Boom Chicka Pop to hold you over. Bonus points if the seat has been correctly worn down to accommodate all your backend curves as if it was made just for you. No shame, we've all been there, and it's no secret our design team loves a good seating arrangement. With spring and sunnier days just around the corner, it's time to start thinking about how to furnish your outdoor spaces. There are many different ways people like to enjoy the outdoors, and we thought we would share our team's favorite design tips when it comes to creating that outdoor setup that will make you the envy of the neighborhood.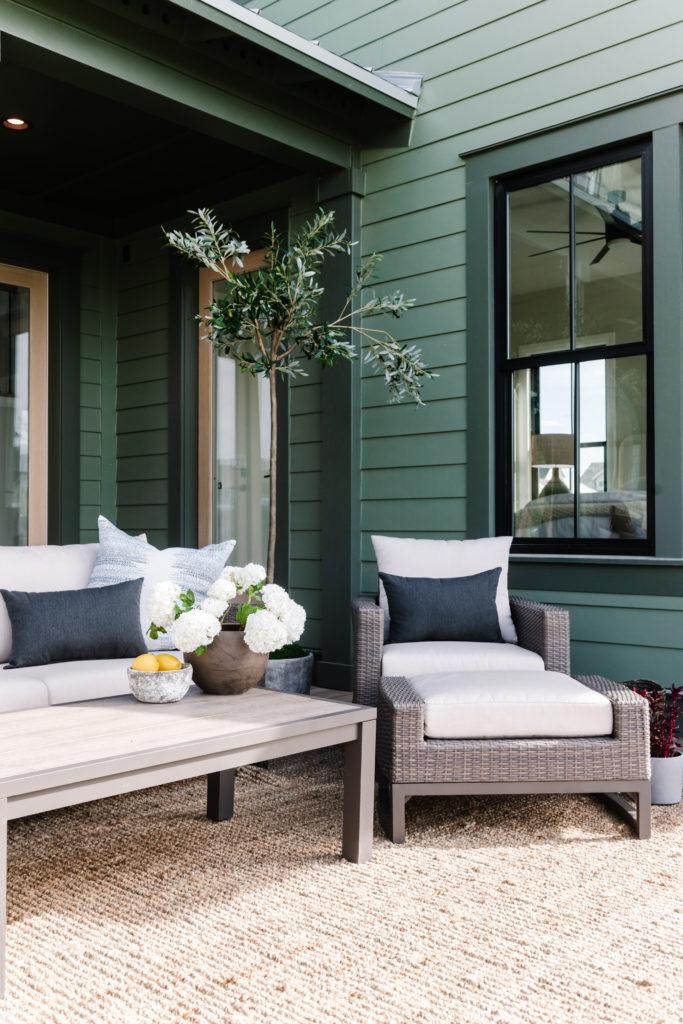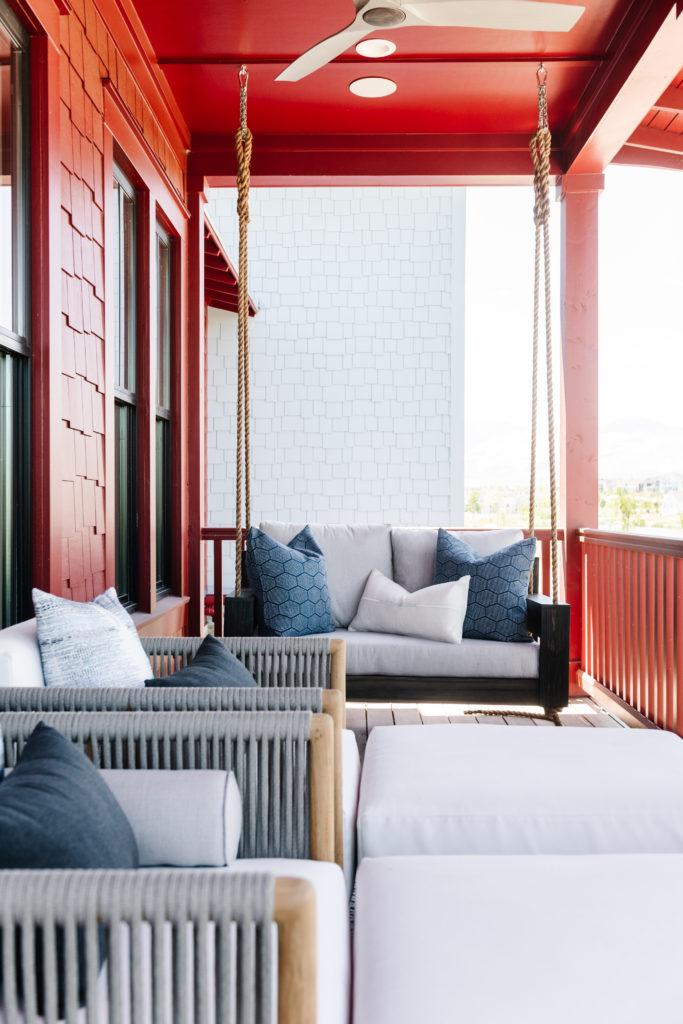 Don't neglect the front porch: The front porch is often the first thing you see when pulling into your driveway, and you want to make it inviting and comfortable. Furnish and decorate using plants, pots, and rugs. Consider a porch swing if you have a big area to work with. If a porch swing isn't to your liking, consider a small coffee table with chairs to enjoy that summer lemonade and afternoon snack. And you can't go wrong with some plush lounge chairs and ottoman for ultimate relaxation as you sit outside watching the kiddos play.

Consider what the space will be used for: Factor in what activities you and your family like to participate in when enjoying the great outdoors. Between lounging solo or seating for the whole family, private secluded areas, fire pits, dining needs, or perhaps even an outdoor swing or hot tub, try to make every place special to you and your family but also functional. Backyards come in very different shapes and sizes, so it's essential to prioritize. One of our projects had a great area for a little bit of everything, so we combined the dining and seating arrangements.

Help it flow with cohesion between spaces: Because you are often dealing with multiple areas, it's important to make sure that you consider your outdoor furniture's textures and colors. Use soft neutral colors so the different areas (dining and seating) aren't competing. It is normal to use the same wicker texture and color throughout your entire backyard space. An excellent way to separate a dining and seating area close together is an outdoor rug; we used two different rugs that look great together in this project. Another great project we had consisted of many separated smaller areas. There was a deck with a sofa and cute rocking chair perfect for a relaxing read in nature. There was even a fire pit area on the lower level.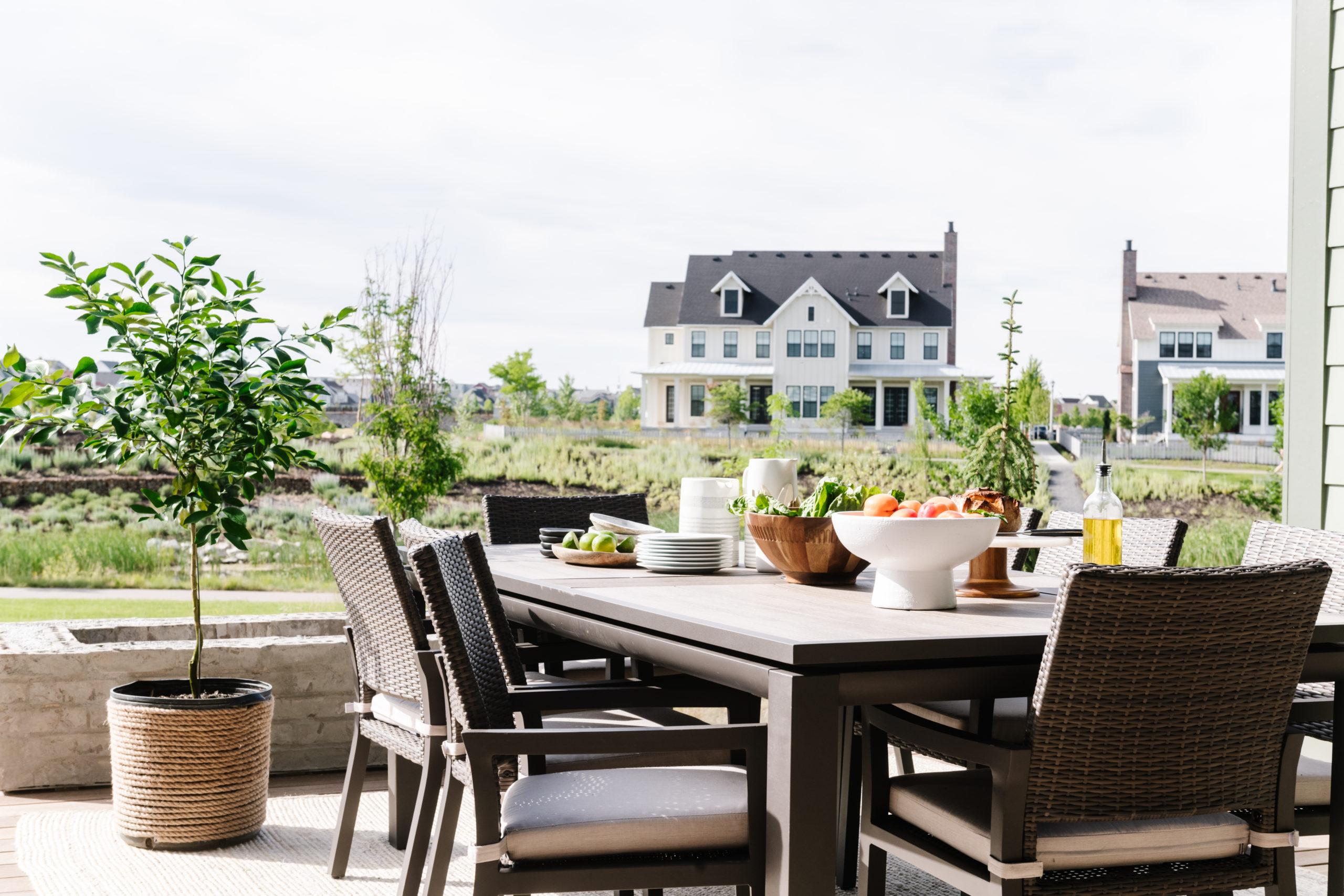 Create a functional firepit: Firepit areas, especially with kids, is a place to put furniture that might not be as comfortable. It is a place to be aware that things can get sticky and messy from marshmallows, popsicles, and who knows what else your littles have on their fingers. Use chairs that can easily be moved around and washed down every once in a while. You want chairs that can easily be moved around in this area so you can move closer or further from the fire as needed. Also, if you have little kids around, be sure to consider safety around the fire so you don't have an accident.

Make it Inviting: Add some fun pillows that showcase your personality, maybe an outdoor blanket, and some potted plants throughout this space. You want this to be a space you enjoy being in. Be sure to factor in how the weather might affect your space. Do you need shade in some areas? What about rain? Is your furniture waterproof? Make the landscaping a place the maximizes the nature surrounding your house. That could be a little water garden, trees for shade, or highlighting a view of the lake or mountains. You'll also want to factor in noise. If you live near a busy street, maybe a fence or other sound-dampening designs help cut down unwanted noise. If you live near a lake or the mountains, a windchime or some bird feeders can help bring the outdoors right in your backyard.

Phew, there's a lot to consider when creating an outdoor space of your dreams. Don't get overwhelmed; just remember you want this to be a space you can enjoy with your family. Prioritize what's important and design a functional, beautiful space. You can always call up our design team to help you get your space ready for a summer to remember. And if this post made you excited for backyard summer BBQs as it did for us, go shop many of our favorite outdoor finds below.