Modern GetAway Cabin in the Mountains
Let's all take a moment and appreciate this charming Talley great room we did in Heber City. We can't stop staring; it's so pretty!! Heber City is a cute little town tucked away in the Rocky Mountains close to several world-famous ski resorts. It's not uncommon to see cabins scattered along the mountainside soaking up these genuinely unique views. Many people have getaway cabins here for those cozy winter nights or beautiful summer days, and this project was no exception. Our client wanted it to feel like a second home, so naturally, we went with a modern cabin vibe.
 The color of these cabinets in the kitchen creates a mood that we are enjoying right now. Dark cabinets are a favorite in the Instagram and Pinterest world, and rightfully so — our design team loves them as well. To keep the kitchen from feeling dark and gloomy, we made sure there was enough natural light to keep things balanced. The surrounding windows do an excellent job our bringing the outside, keeping this light and happy.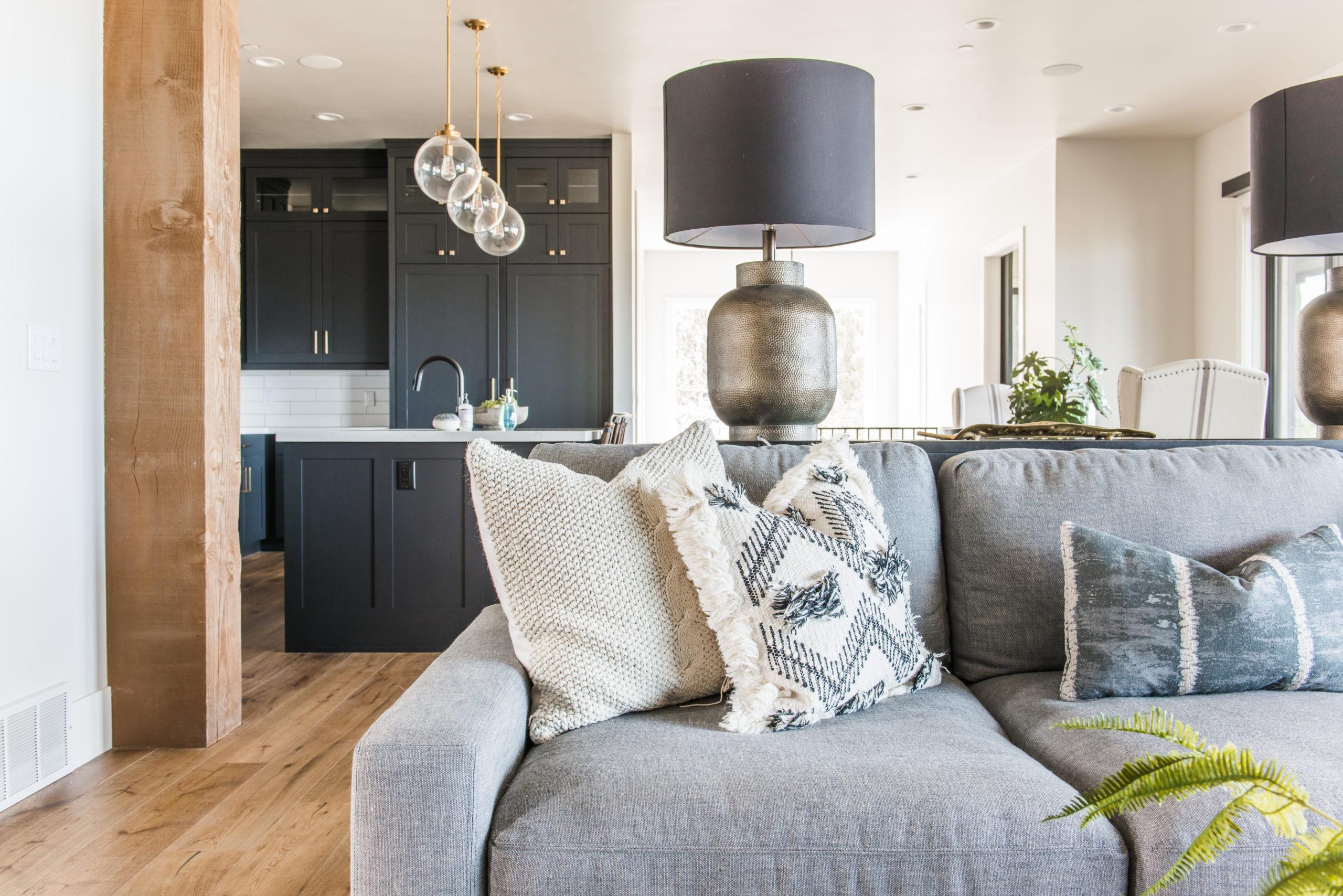 Textures, modern shapes, and modern products make it feel inviting but still illuminating sophistication. Geometric shapes and plaids like the ones we used for the rugs and pillow help bring the cabin to life. We also went with some metal fixtures and softer greenery to make it feel more serene. This hammered metal lamp is a great statement piece for this room as it's the perfect example of that rustic texture we loved. When the light reflects the metal, the space immediately feels brighter and keeps consistent with that modern cabin vibe we are going for.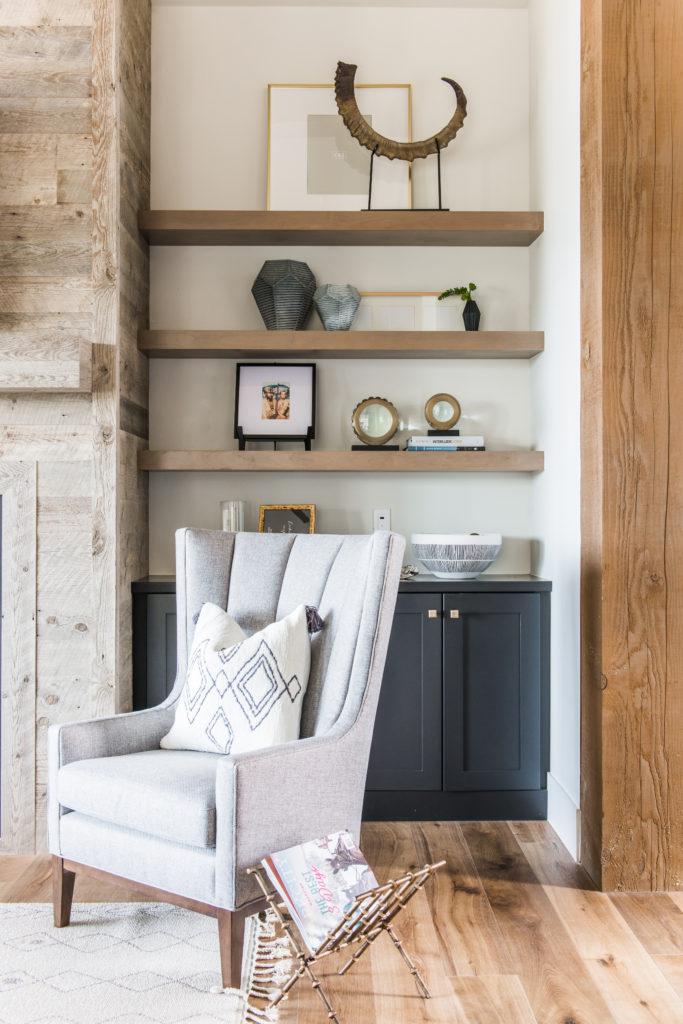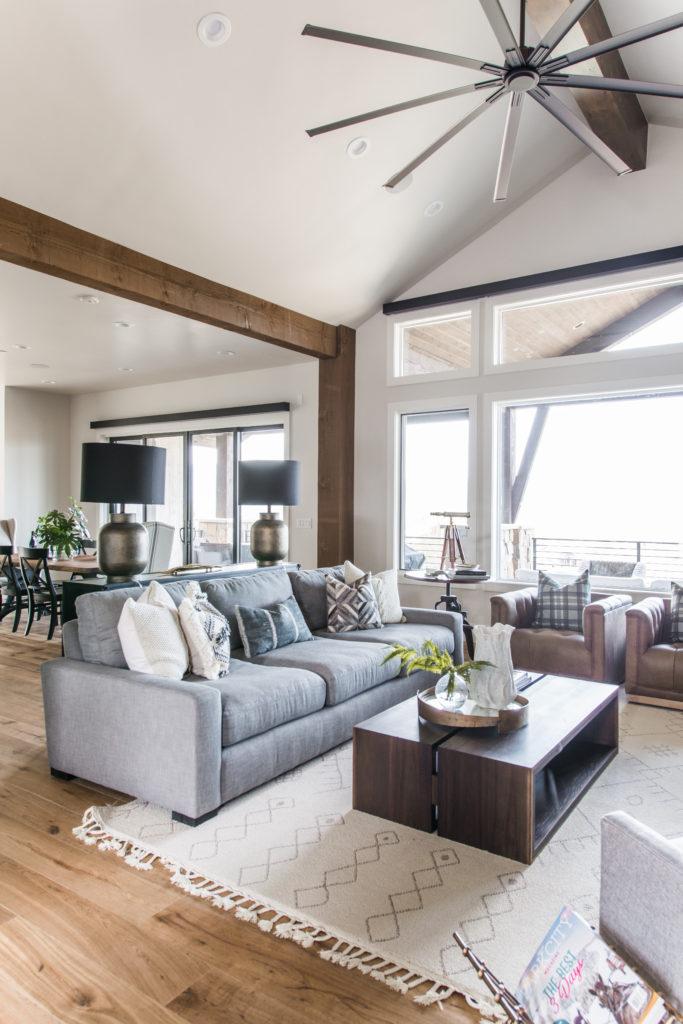 We sprinkled modern elements throughout the room while making sure the furniture had a casual, comfortable feel. Check out those modern leather chairs that we paired with a comfy sofa. Don't you just feel like they add an element of comfort and easiness that's a must-have for every cabin? And of course, what modern cabin wouldn't be complete without a little rustic charm. That's why we added in this subtle yet stunning planking on the fireplace. It so compliments the shelving on both sides. Shelves are a perfect way of displaying a client's style — it's a place where the client can showcase their personality, family momentums, and travel souvenirs.
Perhaps our favorite design piece in this room is the coffee table with a natural wood split down the middle. It really completes the modern, rustic feel by adding an outdoor element while keeping things smooth, natural, and rich. Using raw and natural elements helps keep the space grounded and ties it to the outside environment.
This extra-large ceiling fan is a perfect way to add function and style. It is a modern touch while allowing the client to feel cool and relaxed in those summer months. It so perfectly complements the exposed beams, which act as a nice visual separation between the entry and kitchen.