Interior Design Firm Salt Lake City Utah
Experience Exceptional Interior Design
Driven By Our Elevated Design Process
Our clients never worry if they will love their interior design.
Since 2005 we've completed over 600 interior design projects ranging from furniture layouts… to home remodels… to new home construction, and more, while designing a broad spectrum of styles.
During that time, we discovered which parts of the design process create unsatisfied clients and which parts create raving clients who love their design.
We've translated this experience into a systematic way of creating designs our clients love.
Whether you already know exactly what you want in your interior design or you are just getting started…
Our Elevated Design Process will take you all the way to a design you'll love to live in.
Our Design Process Includes
EFFICIENCY
Our experience eliminates wasted time and design mistakes, so your design is completed on-time and exactly want you really wanted.
TEAM
A design team with a lead designer, ensures there are always enough creative ideas to yield exactly what you want, along with a fully organized project. Each team member works in their zone of highest proficiency. This speeds progress, empowers style diversity, and your project is never delayed if someone is unavailable at any given time.
SYSTEMS
Our systematic approach to design ensures your project runs smoothly. This carefully crafted process makes selections and decisions easy while avoiding costly delay.
TRENDS
Here at Liv we stay current on trends, participating in and leading design seminars and trade shows. This means we always bring fresh design elements and styles to every interior we design.
PERSONAL TOUCH
At Liv, our goal is for you to love your design AND love your experience. That's why we listen to you and dig deeper when necessary to ensure we are building a design you truly love. Our frequent and efficient communication puts you in control while never being left in the dark.
IN-HOUSE LIBRARY
With our in-house library of finishes/materials for construction & interior projects, your designer's billable time isn't spent traveling to various vendors for samples or pieces.
What can we design for you?
PREMIUM FULL-SERVICE INTERIOR DESIGN
Local Salt Lake City Interior Designers
New Construction + Remodel
Whether you're the home builder or the home owner, we've got you covered. As experts in designing for construction projects, we know the details that need to be worked out and the timing so everything runs smoothly.
This makes all the difference in completing on-time, within budget, and avoiding costly tear-outs because the design was not right. Let us help you create an interior design that eliminates stress and design mistakes for your new construction or remodel project.
Furniture + Décor
Trying to redesign the look and layout of your home's interior spaces can have you going in circles trying to find just the right design.
Look no further than Liv Design Collective to put an end to your frustrations and finally get your spaces designed in a way that fits exactly what you were looking for.
Floor Plan
As designers who know how to efficiently combine style with function, we've successfully helped clients create or revise home building plans that meet their needs perfectly.
It's one thing to draw up plans, it's something completely different to know what it will be like to live in those plans. The difference with us is the real-world experience of knowing what it's like to live with a certain design.
When we work on your construction plans, you end up with a design you'll love to live in after the construction dust settles.
Home Staging + Property Branding
It's no secret that a well-designed interior collects more money, for rental properties and selling a home.
If you own rental property, you're potentially missing out on revenue from higher rents. If you're selling a home without a professionally staged interior, you're leaving money on the table.
Let our design experts maximize your budget with a design tailored to increasing your profits.
Organization
Sanity and serenity start with organization. No matter what your organization needs are, we've got the experience to get it all under control and streamline your space's organization.
Function and beauty intertwined to perfection, just for you.
Online Interior Design Packages
This service option is perfect if you're looking to DIY the install for an interior design on 1 to 3 rooms, furniture and accessories.
Everything is handled online with a streamlined process starting from the initial design consultation, through design ideas presentation, and making adjustments as needed until it's exactly what you want.
You're then handed a Design Installation Guide complete with custom curated shopping list and step-by-step instructions to DIY your design install. Learn more about our Online Interior Design Packages.
Office + Commercial
Its no secret that a poor client experience directly impacts your company's bottom line.
Knowing where to spend the money to improve that experience is essential to getting more repeat business while maximizing your budget.
Plus, a natural side effect of great commercial interior design is the ability to command higher fees for your services.
We've got the designer talent to make your dreams reality... even if you need help finding your style
Here's a small sample of our completed interior designs in Northern Utah.
What can we help you create?
HOW WE DESIGN IN NORTHERN UTAH
We'll get together for 60 minutes either in-person or online (your choice) to discover your design goals and put together a design plan that makes sense for you. No pressure, of course.
We'll present design boards based on what you want. Communication is key in our process so plan on meeting with us several times as we present designs and adjust them according to your desires, until you love them. We plan the install and drive the project management, while you sit back in anticipation of the amazing results.
Love Living In Your Design
Experiencing our elevated design process is the beginning that ends with taking your breath away as you begin to enjoy your newly designed spaces. Welcome to design you'll love to live in!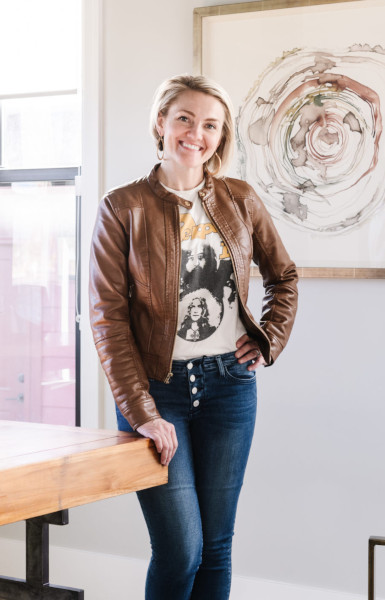 Deboni Sacre, Principal Designer & CEO
DISCOVER WHAT WE CAN DESIGN FOR YOU