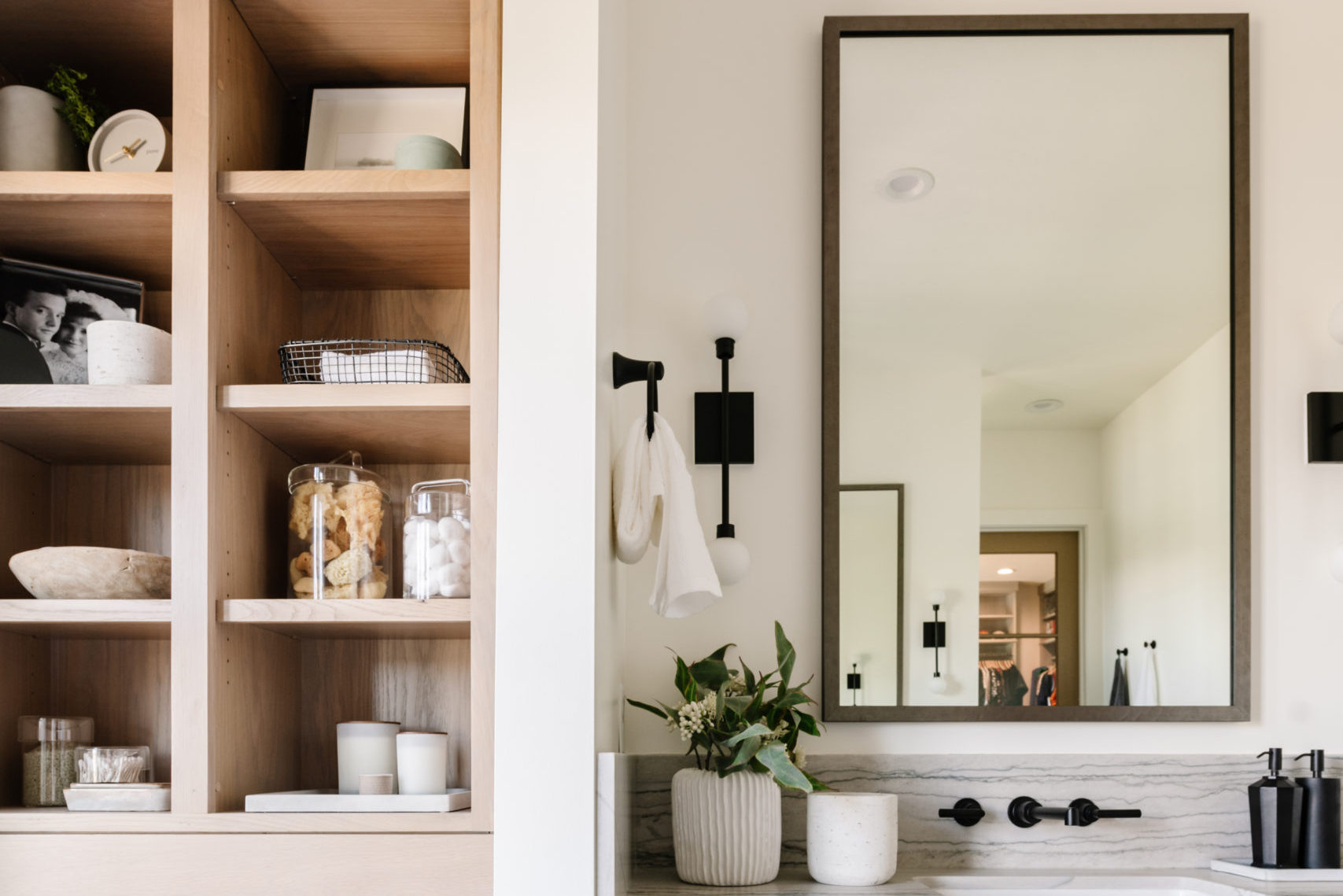 Relaxing Lakeside Master Bath
There are not many spaces in a house more important than a master bathroom. It is where you start and end your day, and if you're anything like us, it's a place to escape for a few minutes of peace and quiet every day (anyone else lock the door just to escape from the kids for a few minutes?!) This beautiful master bathroom has some of the most relaxing views anyone could ask for soaking in your tub until your fingers are wrinkly. It comes with a private porch area overlooking a marvelous lake. Can it get any dreamier?
In this design, we needed to rearrange the layout to produce a functional, open floor plan for the client. One of the ways we did this was to bump out another eighteen inches to maximize the space potential. That may not seem like a lot, but anyone who has done some renovations can attest just how far a few inches can go. Because of this specific layout, we felt it was beneficial to do a his and her sink on both bathroom walls. Not only does this add some variety, but it also creates symmetry and makes the place more modern.
Storage is definitely critical in a any bathroom, so we added ample storage on both sides of the tub. Because space was a little tight, we designed the cabinetry to be open shelves on either side. This helps the room look more open and not feel so claustrophobic, and also allows for easy access to bath accessories such as bath linens or your favorite bubble bath. Open shelves are also a great location to add a little of your own personal touch with some of your favorite décor pieces. Speaking of bubble bath, perfectly centered below this charming six tiered chandelier, you'll find this massive bubble jet tub — the perfect companion to that lakeside view. We always love a beautiful free-standing tub, but this one is definitely one of our favorites.
For the flooring, our team wanted to use some different color than the cabinets but something that still complemented the rest of the color in the space. The team decided on a veined gray tile and we love how it turned out – and so does the client! In addition to the flooring, to tie in some of the white and black from the tub and chandelier, we went with floor-to-ceiling 4×6 marble tile behind the tub to draw the eye to that gorgeous window. To top it all off, those grey marbled countertops and dark fixtures polish the balance of colors in the space.  and grey marbled countertops. 
Sometimes in a room, one piece stands out that we end up even more obsessed with than we thought we would. Hello chandelier! We can't get enough of the modern sparkle it adds to the space. Shop the chandelier below to add some of this lakeside inspired relaxation to your home.